What we're reading on conflict & governance - Covid-19 edition, 1 May.
The beginning of our third month doing this weekly Covid-19 edition of 'What we're reading'. I turned the page on our family calendar on Friday, with yet another blank month looming ahead, and it really hit me how long this has been going on so far and the challenge of not knowing how many blank monthly calendar pages there are ahead of us.
Alisha Patel and I hope that you're finding these reading lists helpful in framing your responses to the pandemic and ensuring that your work is underpinned by governance, conflict and social science considerations. Do let us know how you're using this, in comments below or on Twitter/LinkedIn, and if you're on the hunt for any particular kinds of evidence.
DFID Research & Evidence Division (RED)-funded research teams designated with a 🌟, as always. Many thanks to colleagues who have sent in items to incude!
Stay safe, everyone.
Infographic of the week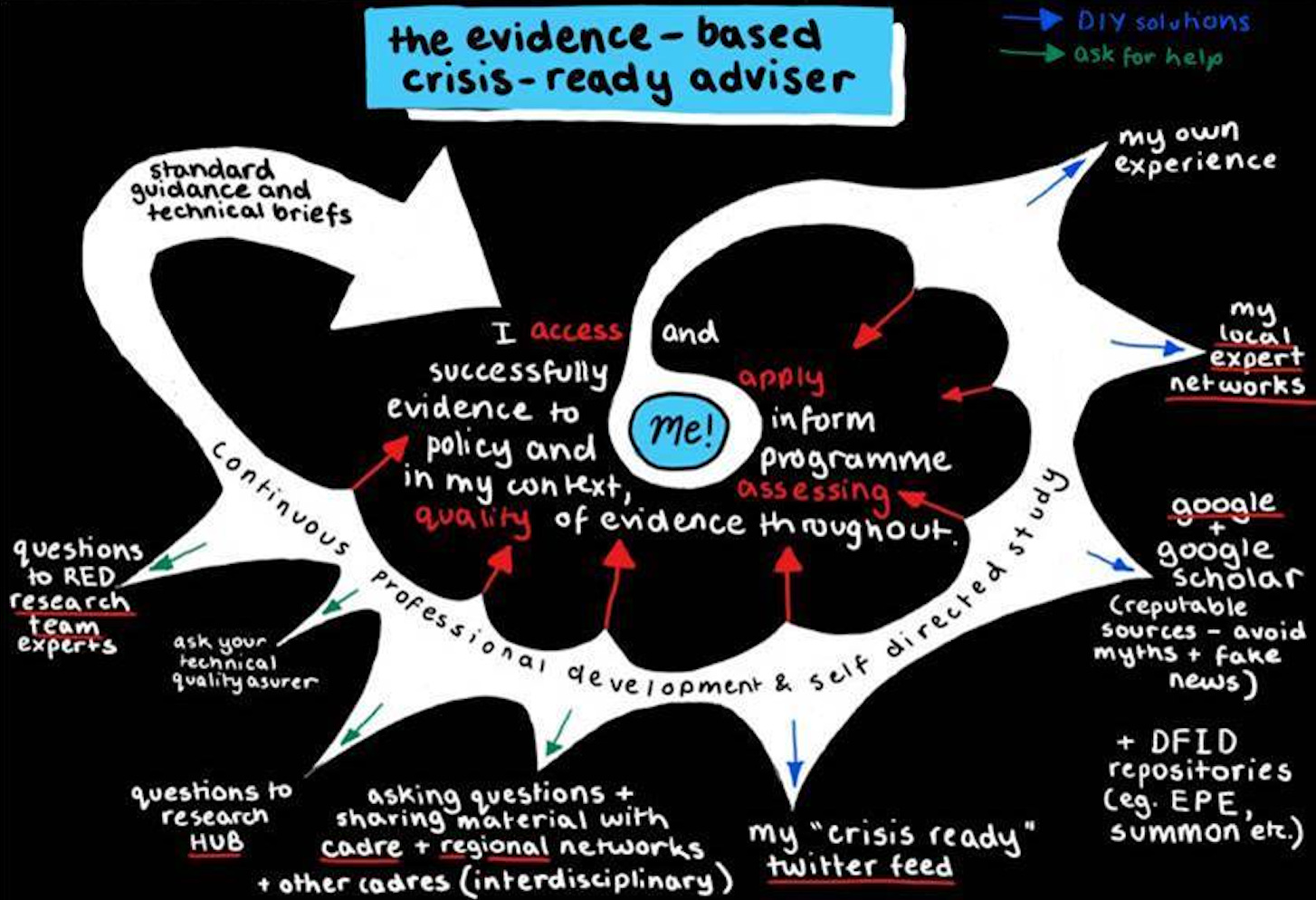 Another class infographic from Evans inc (Peter and his daughter Hamsi) coming together to show how we can/should access, apply and assess evidence to inform policy and programming. The language is aimed at DFID colleagues, but it has much wider relevance.
Threads/News/Blogs/Thought pieces/Research
ACLED, Covid-19 disorder tracker
This useful site brings together ACLED's real-time disorder data in order to track Covid's impact on political violence, protest, state repression, mob attacks and overall rates of armed conflict. Don't do what Tom Wheeler did and hit refresh late at night, where he saw that 98 countries have seen violence spike or remain steady while 50 declined. It's not likely to give you a good night's sleep.
AFP, God, not masks: Magufili's Tanzania is an outlier on virus response
Tanzania's Magufili is putting his faith in God during the coronavirus crisis. (Melanie Moffat)
Africa is a Country, People Power in the Age of COVID-19
In Uganda, it is unclear whether coronavirus will extend Museveni's authoritarianism or provide a political opening for Bobi Wine.
Alex de Waal, Governance implications of epidemic disease in Africa: updating the agenda for Covid-19 🌟.
This research memo from the RED-funded Conflict Research Programme summarisises historical lessons about epidemics and governance on the continent and sets out lessons for impacts state capacity and social and economic distress (especially food insecurity). It looks at vicious cycles of interaction between disease, conflict and state failure, the implications of government responses to epidemics and research gaps.
Allison Buckholtz, Balloons to deliver emergency internet across Kenya
This blog from the IFC looks at how Telekom Kenya has offered the government digital balloons - floating 4G towers, basically - to help bring internet access to the approximately 25 million people without so that they can get Covid updates and so that rural health clinics can connect. While they're offering this free of charge during the crisis, it positions the company well for afterwards.
Andreas du Toit, Covid-19 responses in Africa: Ok, one size doesn't fit all. Now what?
African Arguments is turning into one of the best, most accessible sources for analysis from academics and others. This piece from du Toit, based at the University of the Western Cape, argues - among other things - that governments need to stop treating their citizens as objects of the Covid intervention and to start to treat them as citizens instead, including being willing to have adult conversations about the challenges.
Brenthurst Foundation, How to turn crisis into opportunity: after Covid-19 - choices for a better South African future
This report from an influential think tank looks at some regional and global scenarios and some of the stark choices facing South Africa's government, suggesting in the end number of economic and governance policy reforms. They argue: 'This better future, one of progressive capitalism, is not about less state or more state, but about a capable, efficient, corruption-free state'.
Carnegie Endowment for International Peace, How Global Corruption Threatens the US Pandemic Response
As Ebola began to rage across the Democratic Republic of the Congo in 2018, the disease had a powerful accomplice: corruption. The country's health minister and his financial adviser embezzled $400,000 in relief funds—crimes for which they were recently sentenced to five years of forced labour. Yet the systemic vulnerabilities that enable this type of fraud persist around the world.
Carnegie Endowment for International Peace, Polarization and the Pandemic
The coronavirus creates opportunities for leaders to bridge divides in politically polarized countries. While some have risen to that challenge, in many places, the crisis has aggravated political polarization, with dangerous consequences for public health, democracy, and vulnerable groups. Article includes case studies from Brazil, Chile, India, Indonesia, Kenya, Poland, Sri Lanka, Thailand, Turkey and the US. ".. in most cases, the pandemic has amplified the already dangerous effects of polarization, with serious ramifications for public health, democratic governance, and social cohesion."
Centre for Geopolitics, What do past pandemics tell us about the likely impact of the Coronavirus pandemic on the international order?
It is a common belief that the international order will be fundamentally changed by the coronavirus crisis, with some fearing the final death of the 'rules based' system and others celebrating its revival.
Centre for International Media Assistance (CIMA), Building Regional Strategies for Media Development in the Middle East and Africa
NED's Center for International Media Assistance (CIMA) recently released a report which provides context for the complex crisis now facing media in the Middle East and North Africa and offers a number of recommendations. )
Code for Pakistan, National Dashboard
Code for Pakistan is leading the charge against coronavirus in Pakistan by assisting in the creation of a national dashboard to track active cases around the country.
Crisis Group, Flattening the Covid-19 curve in East Africa
Short podcast (23:36) where journalist April Zhu talks about the impacts of the Covid-19 response in the region, including for geopolitics/relations with China and the potential consequences of a global recession on regional stability.
Directorio Legislativo/ Parl Americas, COVID-19: The challenge of adapting and strengthening the role of parliaments
The coronavirus pandemic has created an unprecedented challenge for governments: making decisions in times of crisis in an efficient, effective, and timely manner is an important objective. The role of the executive branch is usually clearly understood by citizens, as the heads of state and health ministers communicate medical reports, situation analysis and new provisions, while new measures are published in the official gazettes every day. In this context, the role of parliaments must be strengthened so that they can adapt to this new reality presented by the pandemic and continue to exercise their functions of representation, legislation and oversight.
Duncan Green, Fast research can fix government feedback loops broken by Covid - great example from Bangladesh 🌟.
In RED we're proud of the way our research teams have responded to the need for urgent Covid social and political research, and Duncan summarises a new report out by A4EA's Naomi Hossain and the BRAC Institute of Governance and Development in Bangladesh that sets out rapid research findings on how communities are responding to lock down as well as explaining how the research team is working with the GoB to improve their communication and feedback loops. There are also useful reflections on how researchers can pivot quickly when evidence is hugely needed but research itself is so challenging.
DW, EU split over halting bailouts for tax haven firms
The European Commission confirmed on April 24 that its existing rules allow individual EU countries to block coronavirus aid from going to companies based in tax havens. Tax experts believe such national measures could help boost transparency and moves toward a level playing field in global corporate taxation.
The Economist, Protection racket - would-be autocrats are using Covid-19 as an excuse to grab more power
While some of what looks like rising authoritarianism may be incompetence and poor capacity, this piece from the Economist focuses on those cases where there is clearly a worrying power grab going on with serious potential consequences for governance, conflict and stability.
FP2P, Social movements in and beyond the Covid-19 crisis
This guest post from Interface Journal pulls together links to stories from activists around the world about how social movements are being affected by Covid-19 and how they're responding.
International Crisis Group, Managing the Politics of Ethiopia's COVID-19 Crisis
Due to the COVID-19 outbreak, Ethiopia has delayed elections slated for August and declared a state of emergency. Authorities should now consult with the opposition on how to manage the period ahead in order to smooth the country's stuttering transition to multi-party democracy.
International Crisis Group, The Horn
The Horn of Africa is in turmoil, from revolution in Sudan to the increasing regional reach of Somalia's Al-Shabaab to the burgeoning political transformation in Ethiopia. In their podcast author and guests delve behind the headlines and discuss ways to help bring peace and stability to the region.
International Rescue Committee, World risks up to 1 billion cases and 3,2 million deaths from COVID-19 across fragile countries
Alarming new analysis by the International Rescue Committee (IRC) reveals that without swift action in coming weeks to mitigate the spread of Covid-19, the world could see up to 1 billion infections [1] and 3.2 million deaths due to COVID-19 over the course of the pandemic in 34 crisis-affected countries served by the IRC [2], including war zones like Afghanistan, Syria, and Yemen.
IOL, Amnesty International urges 'zero tolerance' on mismanagement of SA COVID-19 funds
Global human rights watchdog Amnesty International has urged South Africa's government to ensure zero tolerance towards the misappropriation of funds set aside to mitigate the impact of the Covid-19 pandemic.
Jeffrey Smith & Nic Cheeseman, Authoritarians are exploiting the coronavirus pandemic to undermine democratic liberties. Democracies must not follow suit.
Jeffrey and Nic set out three useful categories of autocrats: emboldened dictators, opportunistic autocrats and clueless authoritarians, but it's real value add is in looking at how democracies have responded and how those that have prioritised transparency and accountability are faring the best, both in terms of their health response and in terms of citizen trust.
Jessica Davis, Terrorism during a pandemic: assessing the threat and balancing the hype
Davis is a former senior strategic analyst with the Canadian Security Intelligence Service and sets out 'known unknowns' on how the virus is impacting terrorists and extremists and what sort of propaganda is emerging, as well as why we need to be careful not to jump to conclusions too soon.
Journal of Democracy, Various articles
The latest issue of the Journal of Democracy featuring articles on populism in Turkey, media freedom in Africa, and what coronavirus means for the future of the Chinese Communist Party.
Jude Blanchette, China's digital Silk Road after the coronavirus
For those of us trying to keep an eye on geopolitics as well as the development side of Covid-19, this CSIS article looks at how China has managed to push ahead with 5G expansion, despite an initial Covid setback, and what this could mean for global power dynamics in the near future in other countries (especially the US) don't match its digital infrastructure ambitions.
Law 360, Virus Signals Need to End Use of Tax Havens, Report Says
European Union countries scrambling to address economic harm from the novel coronavirus pandemic should also mind the knock-on effect of corporations shifting profits to tax havens on EU soil, a tax-fairness group said in a report.
Lucia Bird, Smuggling in the time of Covid-19
An incredibly useful contribution from Lucia, a researcher with the Global Initiative Against Transnational Organised Crime, that looks at several ways in which the crisis is impacting both legal and illegal migration and human trafficking, pulling out short/mid/long term implications and suggesting a number of potential policy responses to help ensure that some of the world's most vulnerable people don't pay the highest price for the crisis.
Mail & Guardian, At war with COVID-19: Opportunities for Africa?
The pandemic provides numerous political opportunities.
Mail & Guardian, The pandemic is being used to erode democratic freedoms. Civil society must fight back.
Some autocrats are using the pandemic to erode political freedoms.
Mark Wilczek, Cybercrime may be the world's third-largest economy by 2021
Drawing on the WEF's 'Global Risks Report 2020', Wilczek argues that cybercrime is going through its own industrial revolution with risks for everyone - from targeted individuals all the way through to mission-critical infrastructure. With some scenarios on post-Covid unemployment as high as 50%, this suggests cybercrime's share of the global economy will grow even further.
Mlex, Healthcare sector probed by OECD 's antibribery group for 'Wild West' procurement approach
A "Wild West" approach to healthcare procurement during the Covid-19 crisis led an international antibribery group to fast-track pandemic-linked corruption research, MLex understands. The OECD Working Group on Bribery said it was examining the impact of the pandemic on foreign bribery controls in countries and in sectors like the healthcare industry.
National Endowment for Democracy, A New Invisible Hand: Authoritarian Corrosive Capital and the Repurposing of Democracy
Author Martin Hala explores how capital flows from authoritarian regimes such as Russia and China undermine democratic processes and institutions—and outlines what a response from civil society could look like.
National Endowment for Democracy, China Digital Times provides crucial insight and information about China and the COVID-19
Xiao Qiang, founder and editor-in-chief of China Digital Times, was quoted in both The Atlantic and The Washington Post in stories that examined the early days of the Covid-19 outbreak, the possible origins of the virus, and the WHO's early missteps.
National Endowment for Democracy, Firming Up Democracy's Soft Underbelly: Authoritarian Influence and Media Vulnerability
This report explores how the leading authoritarian regimes have exploited democratic norms and transformed the market for information into a dangerous tool to exert antidemocratic sharp power.
National Endowment for Democracy, North Korea defectors elected to South Korean National Assembly
NED Grantees Ji Seong-ho, a winner of NED's 2018 Democracy Award for his work with NAUH, and Thae Yong-ho, the highest ranking diplomat to defect from North Korea, were both elected to seats in South Korea's parliament.
National Endowment for Democracy, Serbian Grantee KRIK Fact-checks Coronavirus Pandemic, Monitors Government's Response
As misinformation floods citizens, Serbia's independent media prove the most important sources of objective information amidst the COVID-19 crisis. The Belgrade-based Crime and Corruption Reporting Network KRIK is an investigative reporting centre with the mission to support hard-hitting investigative journalism as a tool against corruption.
New York Times, Ecuador's Former President Convicted on Corruption Charges
A New York Times article credited NED grantee—online news outlet Mil Hojas— with breaking the story of the bribery scandal involving former Ecuadorian President Rafael Correa that led to his conviction on corruption charges by Ecuador's top court.
New York Times, Treasury Vows to Recoup Virus Relief Aid Claimed by Big Companies
The US Treasury Department is frantically trying to figure out how to recoup hundreds of millions of dollars from big companies that applied for loans and received them under the COVID-19 relief program's initial terms. On Tuesday, Treasury Secretary Steven Mnuchin made another attempt to deal with problems largely of his own making, as he tried to quickly funnel billions of dollars to businesses with vague guidelines.
OCCRP, Colombian Officials Accused of Misusing COVID-19 Funds
Colombian authorities said that they have opened an investigation into the possible involvement of government officials in contract irregularities linked to the country's response to the COVID-19 pandemic, OOCRP reports. The country's Chief Prosecutor asked the Colombian Supreme Court to investigate the role of the country's agriculture minister in the alleged misappropriation of emergency coronavirus funds.
ODI, Covid-19 - why gender matters
This link leads to a summary of key points emerging from a range of ODI research followed by links to several individual pieces of analysis.
OpenDocs, Donor Activities in Strengthening Access to Justice in the Sahel
This study seeks to provide a description of the access to justice initiatives that are being implemented in Burkina Faso, Chad, Mali and Niger. The research for this report has examined key multilateral donor websites and bilateral donor websites for information on justice programming in the four countries.
OpenDocs, Donor Agencies' Efforts for Improved Transparency of Delivery Chains for Aid Programmes
This rapid literature review academic sources, grey literature, and information and documents available on official organisation websites, on transparency and traceability of Official Development Assistance (ODA) within donor agencies' development and humanitarian aid delivery chains. It draws heavily on grey literature and particularly on information on webpages.
OpenDocs, Justice Systems in the Sahel
This review looks at justice provision in four countries in the Sahel: Mali, Niger, Burkina Faso and Chad. All feature formal (state) justice systems alongside customary/religious justice, with the latter typically being seen by citizens as more accessible, cheaper and less corrupt. State justice systems in all the countries face similar challenges: corruption, resource and capacity constraints, and political interference. However, there are also significant issues with customary justice mechanisms, notably exclusion (or limited participation) of women and other marginalised groups.
Project Syndicate, The Coming Greater Depression of the 2020s
Good piece by Nouriel Roubini that summarises ten possible macroeconomic/political ramifications of COVID. Nothing unexpected but still grim reading as it emphasizes the massive, interconnected challenges that will threaten international development for decades.
Public Management Research Association, Public administration in the time of Covid-19
This special virtual issue of the Journal of Public Administration Research & Theory pulls together a range of its articles with potential lessons for the Covid-19 response, built around two main themes: the role of public administrators in response to extreme events and the subsequent dynamics of networks, and the relationship between trust and communications. (As a side note, academic journals are usually sluggish and loathe to change, but there have been many really stepping up. Which is good, considering how much taxpayers' money goes into them…)
Rachel Locke & Laura Bailey, #BuildaBridgetoBetter: recommendation to drive pandemic responses
This is my top read of the week. Locke (Director of Impact:Peace) and Bailey (recently retired World Bank Global Lead for Stability, Peace and Security) are hugely experienced, and they draw on their research and their experience to make the case for rethinking 'build back better', which they say is rarely 'more than a paper plan than a meaningful shift in the status quo, the focus all too often on infrastructural deficits rather than political or economic ones'. They argue that we need to focus on women's leadership, recognising and prioritising legitimate local action and directing recovery funds towards fundamentally shifting inequalities. This uplifting article made up for Tom's late night tweet about rising violence…
Roberto Saviano, Why the mafia are taking care of everyone's business
The ways in which organised crime is benefiting from Covid is a running theme throughout these weekly reading lists, and with good reason. Saviano is arguably the best known journalist looking at organised crime, and this has some very worrying insights into the ways in which mafia groups globally are providing Covid aid in order to build support (and a labour base) for after lockdown ends. But more worrying, perhaps, he refers to a UNODC investigation after the 2008 financial crisis that showed how banks depended on organised crime groups' liquidity - hidden in tax havens - for the bail out. Signs are that organised crime might 'come to the rescue' again with Covid, and this should worry us all given the scale.
Samanth Subramanian, How the face mask became the world's most coveted commodity
Fascinating Guardian Long Read on the global political economy around PPE and what it's doing to international politics as well as the economy.
Scott Guggenheim, Covid-19 and community responses
Scott looks at the ways in which existing community development projects could be brought into Covid-19 responses especially as they often have a proven track record of reaching large numbers of the poor very quickly.
Stefane Hallegatte & Steven Hammer, Thinking ahead: for a sustainable recovery from Covid-19
This World Bank blog from its Lead Economist and Global Partnerships/Strategy advisor looks at the economic response needed, from building on existing social protection systems wherever possible in the short-term, for example, to thinking strategically about rescue packages that are based on what they call a 'Green Stimulus Framework' - building back greener, not just better.
Steven Davenport, Jana Kunicova & Emily Kallaur, We're all in this together: collective action and trust in the age of coronavirus 🌟.
This World Bank blog looks at the importance of building trust in the Liberian ebola response and how lessons for learned as the crisis was unfolding with key adaptations, like working more closely with local government/community leaders, helping to build trust. There are a number of good suggestions, though they may want to read this paper from the SOAS Anti-Corruption Evidence team on the worrying politics of digital IDs before suggesting the roll out of digital IDs for food distribution.
The FCPA Blog, Former UK prosecutor: Six ways to prepare for the coming surge in internal investigations
Governments everywhere are opening the taps with economic stimulus, and that's creating tempting opportunities for fraud, corruption, and other financial crimes. Those complicit in criminal activity today may stay put, or move on to different companies tomorrow. The article lists six principles to keep in mind about the Covid-19 investigations aftermath.
The FCPA Blog, Lobbying during a pandemic? How to safely manage political engagement
In times of crisis, the need for a flexible operating environment where government and companies are in increasing dialogue to make swift decisions can open the door to improper conduct through disproportionate, opportunistic, and opaque corporate political engagement. The article lists key corruption risks surrounding corporate political engagement during the Covid-19 pandemic, and how they can be managed effectively.
The Guardian, The global pandemic has spawned new forms of activism - and they're flourishing
The pandemic has also spurred new forms of activism across the world.
The Jakarta Post, KPK warns that COVID-19 aid swindlers face death penalty
Indonesia's Corruption Eradication Commission (KPK) has asserted that those found guilty of corruption relating to COVID-19 relief funds could face the death penalty.
The National, Saudi Arabia arrest senior officials involved in coronavirus corruption
At least three senior Saudi officials have been arrested along with other people for trying to profit illegally from the coronavirus outbreak in the kingdom, state media reported on Sunday. Two of the officials worked in the health ministry and were involved in a scheme to overcharge the government for the hotel quarantine stays of citizens returning from abroad, said an official source in the Saudi anti-corruption agency Nazaha.
Transparency International, Anti-bribery and corruption during COVID-19: Six tips for compliance officers
The Business Integrity team at Transparency International UK has compiled some top tips to ensure that businesses can keep running with integrity during this global crisis and ensuring anti-bribery and corruption (ABAC) best practice.
Transparency International, Procuring for Life
As the rapid spread of the coronavirus or COVID-19 pandemic continues around the world with devastating effects, the growing crisis brings two issues into clear focus: the importance of government action in the emergency response and the essential and often lifesaving role of public procurement. The ongoing global health crisis exposes vulnerabilities in public procurement. Two part article.
Vanda Felbab-Brown, Mexican cartels and the Covid-19 pandemic
While organised crime groups are clearly looking to gain political capital from the crisis, Felbab-Brown disaggregates types of groups in Mexico to look at home some will benefit and some will suffer depending on the sorts of business lines they have. She also points to something coming through a lot of emerging analysis: the best (only?) way to undermine OCG ambition is for the state to deliver Covid aid and to do it well.
Vanessa van der Boogaard, Fill the gaps, feel the pain: Insights from Sierra Leone on an epidemic's impact on local taxation, public services and the poor 🌟.
Hugely important reflections from the impact of Ebola on local taxation, service delivery and poverty – with some recommendations on what should be done.
Zambia Watchdog, Corruption: Minister Chilufya orders $9m Chloroquine to treat COVID 19
The Zambian Ministry of Health has procured hydroxychloroquine, commonly known as chloroquine tablets at a cost of over $9 million for the treatment of Corona virus without following procurement procedure, Zambia Watchdog reports. The drugs arrived in the country last week. Latest information shows that Chloroquine cannot be used in the treatment of COVID-19. Furthermore, a local company that recently donated a huge sum of money to the Ministry of Health in exchange for business, is manufacturing hand sanitizers whose alcohol content is below the required 80% content.
Useful sites & twitter threads curating content to follow
CGD, Coronavirus preparedness & response
CIPE, Corruption & Cofid-19 resources
ECPR Standing Group on Organised Crime, Controcorrente (dedicated Covid-19 blog series)
GI-TOC, Covid Crime Watch
Global Voices, Covid-19: Global voices for a pandemic
ICNL, COVID-19 Civic Freedom Tracker (Will Taylor)
IDS, Covid-19: the social science response to the pandemic 🌟
Jorge Mantilla (UC-Chicago), Twitter thread curating pieces on Covid-19, conflict and crime
K4D, Covid-19 Resource Hub 🌟
Political Settlements Research Programme, Conflict, development and Covid-19 resources 🌟
The Syllabus, The politics of Covid-19 readings
Various, Crowd-sourced cross-disciplinary coronavirus syllabus